"You're a team, the best, the better looking, more powerful, and dare I say, more devious!"
— Captain Zero describing his fleet, Sunshine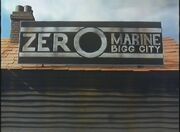 Zero Marine Bigg City (affectionately known as the Z-Stacks or the Zero Fleet) are one of two tugboat fleets that work in Bigg City Port. They are led by Captain Zero. Throughout the series, they act as arch rivals to the Star Fleet in many ways such as business competition and a strong dislike for one another. The series mostly portrays them as the main antagonists of many episodes, commonly using them to show a narrative message to the viewer(s) about right and wrong.
However, there are some instances where they are portrayed as frenemies or even allies to the Star Fleet. Such cases include the actions of Zebedee in High Winds, and the two fleets teaming up to find the thief in Pirate, as well as sharing a mutual dislike for Bluenose in Munitions. Zug was also forced to work on a plan with the Star Fleet in Trapped after he and Zorran accidentally jammed a tramper across the river, trapping both him and the Star tugs. The Z-Stacks are based on the Moran fleet of New York City waters from the 1920s. In Salty's Lighthouse, they are friends with the Star Fleet and are always called the Zero Fleet.
The fleet all dock and receive orders from their captain at the Zero Dock, which is adjacent to the Star Dock.
In Jinxed, Boomer once assisted them with a munitions contract, but after an incident where the munitions barge exploded, Captain Zero angrily expelled him and returned him to Captain Star.
Members
Former
Trivia
Johnny Cuba was once a friend of Captain Zero, but after they got into an argument and lost each other as allies, Captain Zero gave strict orders to avoid the gangster tramper.
All five Z-Stacks have been sold to The Star Tugs Company (formerly The Star Tugs Trust), making it the only fleet in the series to have all models sold and accounted for.
Zebedee is the only member of the Zero Fleet whose face masks are known to still exist to this day.
Gallery
Community content is available under
CC-BY-SA
unless otherwise noted.